Valencia`s Gladiators continue to pursue Barca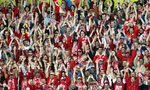 Valencia`s team won the eighth consecutive win in La Liga after a 2-0 win over their visit to Espanyol in a 12th round of the Spanish Championship. With the success of the black and white team, they stayed at four points by the Barcelona leader and the figures show that they are the only real pursuer for the moment. Six days later Mestayia will be the big clash between the Valencian and the blue-and-red Catalans. Today, on the outskirts of Barcelona, Espanyol played very strongly in the first half, but after the break, they showed great efficiency and congratulated the three points after the goals of Joffrey Kondogbia (66) and Santi Mina (82). Marcelino Garcia Toral was deprived of the services of his main accomplice Simone Dzazza and left the Portuguese sensation Gonzalo Guesesh on the bench. The hosts played much stronger in the first half and hit two beams. In the 22nd Congdhuga made a mistake and handed Sergio Garcia`s ball, he handed over to Pablo Piatas, who failed at the shot. In the 30th Lion Pericutos they missed a new position after a new defect in the bats` defense: Noth paralyzed David Lopez`s shot. The 36th Gerard Moreno shook the crossbar. In the 42nd Catalan team missed a new opportunity, with Sergio Darder aiming a beam.
In the 53rd minute, Piatti did not take advantage of Sergio Garcia`s nice pass after the home team`s speed. The 59th Lato failed to pass well to goalkeeper Neto, Sergio Garcia took the ball but failed to score. Contrary to logic, Mestya`s guests found the result. Kondogbia scored a spectacular goal with a 22-meter strike, where the ball came to Pau Lopez`s right side - 0: 1. In the 70th Rodrigo Moreno could double but hit the beam. The 82th Valencians moved closer to the three points after a second goal. Carlos Soler centered, Viktor Sanchez decided to make a brilliant pass to the goalkeeper, but the pass was crossed by Santi Mina, who directed the net. Finally, Valencia increased its lead to Real Madrid and Atletico Madrid by four points, and the following Saturday will try to get closer to just one point from the top.
STATISTICS FROM THE MATCH
CLASSIFICATION
Sport tips blog