Djokovic wants more money for tennis players, proposes the creation of a trade union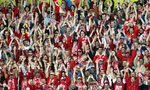 Former number one tennis player Novak Djokovic has called for a raise in prize money for tournaments. The Serb speaks at a press conference at the Australian Open, attended by Roger Federer, Andy Murray and Rafael Nadal. After the introductory remarks, Djokovic asked the officials to leave the room and gave a short speech to the athletes and translators. According to Serb, tennis players earn less than other sports and appeal to their colleagues to fight this injustice. Djokovic has come up with a concrete proposal - creating an ATP-independent union of tennis players to engage with these issues. It should be noted that Roger Federer did not support the Serb initiative.
30-year-old Djokovic is the first tennis player to cross his $ 100 million prize pool over his career. Djokovic`s idea coincided with the intentions of the Australian Open organizers to double the tournament`s prize pool and in the next five years to grow to more than 100 million Australian dollars.
Sport tips blog